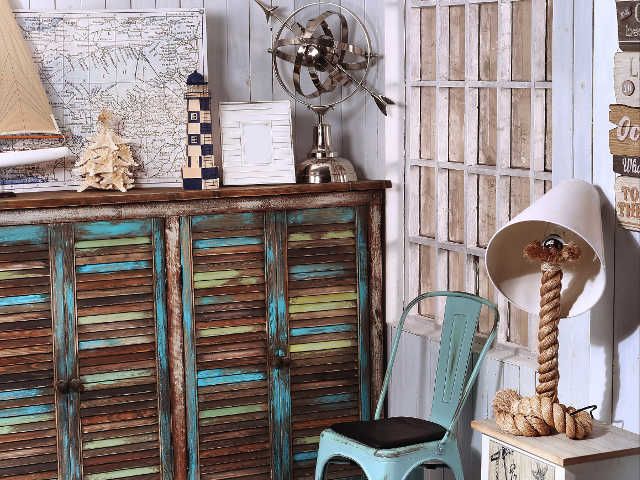 Spicing Up Your Quick Move In Home With Shabby Chic Decorating
December 15, 2016 5:55 am
Think of the feeling you get when you open your windows wide and let the sun shine in on a beautiful summer day. That's the feeling you'll get every day with Shabby Chic decorating. Shabby chic is a perfect style for a quick move in home. The look is warm, comfortable, and inviting, and the style uses affordable furnishings that you can add to your rooms as your budget allows.
This popular style of decorating couldn't be any easier to replicate. It incorporates things you own that are both old and new. It's perfectly fine to mix and match things like antique tables alongside modern cabinets. The only rule is to achieve a casual, comfortable mix. Your new quick move in home will have that warm 'homey' feel in no time by following a few of these suggestions for shabby chic decorating:
Clean, Simple, Neutral
The shabby chic style uses a lot of white furnishings and accessories. That keeps the living space looking roomy and uncluttered. The blank canvas of white and light off-whites makes a great backdrop for highlighting some of your signature furniture items and décor.
For the living room, combine off-white lace curtains with a burlap textured chair. An antique wood frame mirror would add a great centerpiece to your space. Bedrooms look inviting with white bedding and an iron bed frame. Keep the color palette light by using pastels when adding color to the room. Finish with a woven rug that will provide an earthy feel.
Mis-Matched, Done Right
Usually known as a style faux pas, mismatching furniture is an essential part of the shabby chic style.
If you're wondering if a piece of furniture or accessory will work, think of the kind of decor you'd find in a cottage. Cottages and vacation homes are usually filled with a combination of furniture that spans decades. Shabby chic decorating simply mimics the passage of time by assembling a range of furnishings all at once.
If you want to add contemporary furniture to the mix, go for pieces that have crisp, clean lines, and that combine metals with upholstery. A vintage armchair will look great alongside an industrial style metal cabinet.
Colors don't need to match, but rather they should blend together. Plaid or floral patterns, if not too overwhelming, can be used in a a mixture that adds interest by being varied. Just avoid big clashes of pattern and color.
Everyone Loves Vintage
Most homeowners have at least one vintage item that follow them throughout the years in different residences. Keepsake items are great at making a house a home. You can make vintage items act as a highlight piece in one of your rooms. If you stick to neutral palettes and textures, a substantial piece of furniture with heavy grain or color can really stand out.
For the ultimate shabby chic style, incorporate furniture that includes weathered wood, chipped paint, or vintage leather. Use brass hardware on doors, cabinets, or furniture. Add unique lighting solutions to a room with light fixtures and chandeliers of yesteryear. An often overlooked benefit of using older pieces is that they are usually more well-crafted, too!
The Distressed Look
There's something about aged furniture that makes a room seem familiar and cozy. If you don't own older furniture, or want to avoid spending money on vintage furniture, you can still get that timeless feel by adding the distressed look to newer pieces. It's easy and rewarding to add a patina to furniture with paint and a scoring pad.
Finding new uses for found objects is an important part of shabby chic decorating. A weather-beaten trunk can be used as a coffee table. You can lean an old wooden door against a wall for atmosphere. Found pieces of wood can be repurposed as nightstands or side-tables.
Add Cozy Areas to Your New Home
It's smart to create nooks in unexpected areas of your new home using shabby chic decorating techniques. These become destinations for casual conversations and quiet activities like crafting and reading. They also expand the amount of storage in every room of your quick move in home.
Establish a reading corner by adding new upholstery to an old bench. You can repurpose a kitchen cabinet as a bookshelf to keep reading material organized and close at hand. A similar effect can be achieved by adding a dresser to a dining room space to hold extra dishes and silverware. With this clean look, any addition of plants continues the down-to-earth feel of the space.
Shabby Chic Helps You Enjoy Your Quick Move Home
A quick move in home is a blank slate for decorating. Using the shabby chic decorating approach is a great way to make your new house feel like home right away. It's also more economical and fun that more formal decorating styles. You can add pieces as your budget allows, and mix and match your existing furnishes over and over to freshen up your home. Quick move in homes by Chetty Builders are the perfect backdrop for this engaging style!

Tags: new home decorating


Categorised in: Uncategorized

This post was written by Chetty Builders