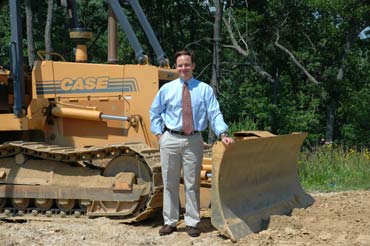 At Chetty Builders, we believe in building quality homes using a unique, personalized approach. We have a total commitment to craftsmanship, customer service, and respecting the vision of our homeowners.
Chetty Builders began building new homes in PA in the mid 1980s. Since then, we've expanded into multi-family and commercial developments across Pennsylvania and Delaware. We've completed a multitude of new construction homes, multi-family developments, and commercial construction projects over the years. That experience allows us to deliver the highest quality homes in the area at affordable prices. Chetty Builders takes pride in the quality of materials we use, the craftsmanship of all our workers, and the sustainable building practices we've mastered over the last three decades.
Custom Home Builders Who Care
We promise our customers a unique homebuilding experience that starts on Day 1 and lasts until well after settlement. Our team is committed to a hands on, personalized approach during every step in the process. Chetty Builders builds lasting relationships with our homeowners, made possible by the stability and consistency of our dedicated employees. Chetty Builders also strives to maintain useful partnerships with trusted lenders and title companies. That results in a comprehensive and simplified experience for all our customers.
New homes for sale from Chetty Builders display the kind of high quality materials and expert craftsmanship that confirms our promise that no detail will be overlooked during the construction process. We choose subcontractors, project managers, and third-party home inspectors who share the same commitment to high quality and integrity.
Hands-On Attention From the Builder
The owner of Chetty Builders takes the direct approach to make sure that his homes are built to the highest standards and specifications. Chetty Homes are built using only high quality, energy efficient materials. That means they'll look newer longer, and they'll be more economical to own. We believe in offering the same level of care and craftsmanship to our homeowners that we build into our own homes.
That's why if you're looking for new construction homes in Chester County PA, Dover DE, or the surrounding areas, you should look for the Chetty name first. You'll be glad you did.