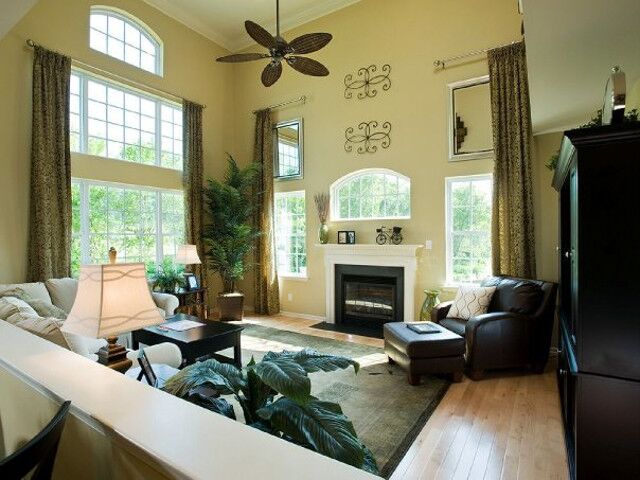 How To Use Lamps To Beautify Quick Move In Homes
November 15, 2016 6:22 pm
There are a lot of good reasons to buy quick move in homes. If you're relocating for a new job, you can't afford to wait for a custom home to be built. Buying an older home that requires renovation isn't practical either. Moving in quickly and settling down is easiest when the home is in turnkey condition. Trading up is another great reason to be in the market for quick move in homes. If you've already sold your existing house in order to move to a newer, roomier home in a better neighborhood, a home that's nearly ready for occupancy is perfect.
After you move in, you might notice that your furniture looks a little lost. If your new home is a lot bigger than your old one, it's time to visit the home center or mall to pick up a few things. Perhaps first on your list should be new lighting. Most quick move in homes have generous ceiling lighting as the primary source of light for each room. However, many rooms will benefit from additional lighting from secondary light sources. These secondary light sources can not only add light but will also add convenience, atmosphere, and style to each room.
The Importance of Good Lighting
Without good lighting, even the most well-designed room is not truly complete. Every room in your home will benefit from a smart combination of general lighting, accent lighting, and task lighting to set the proper mood and provide enough illumination. Table and floor lamps are a great way to add lighting to any room. They have a functional and decorative role in your home. Floor and table lamps have grown in popularity in recent years for enhancing the livability of every room in the house. Here are a few guidelines you can use to make your rooms more functional, comfortable, and stylish using lamps and other lighting appliances:
Use Lamps to Create Mood and Atmosphere
Mood lighting is one of the biggest uses of table and floor lamps. Whether you want to create a romantic mood in the bedroom, or a working atmosphere in the office, the proper lamp will do the trick. You will also want to choose the correct bulbs for your lamps when thinking about mood lighting. Whiter, brighter colors support a more alert, working environment. Softer, more yellow colors produce a warmer, more comforting atmosphere.
Use Lamps To Illuminate Your Favorite Spot for Reading
Overhead lighting is great for general illumination, but reading is more comfortable if you add lighting close to where you sit. When reading, your eyes like bright, white light in order to see the words on the paper as clearly as possible. Whether someone likes to read in bed, or in a special chair in the living room of quick move in homes, they can benefit from the use of a table or floor lamp for additional task lighting.
Floor and Table Lamps Provide Convenience at Bedtime
It's convenient to have a floor or table lamp near your bed, both at night and early in the morning. At night, when it's time for bed, it is much easier to simply reach out and turn off a nearby lamp than get up out of a comfortable bed to flip a switch. If you need to wake up before the sun rises, a table or floor lamp is even more convenient. Rather than climbing out of bed and stumbling around in the dark to get to the switch, why not just turn on a nearby lamp?
Table and Floor Lamps Help Highlight Corners and Alcoves
There are spots in every home where the sun shines brightly during the day, but might get a little too dark at night. Maybe there is a comfortable chair or sofa in a darker corner an otherwise bright corner of a room that could use a little extra lighting. A nice floor lamp will definitely help to add extra lighting to that space. Even better, a highly decorative floor lamp near the sofa will give the furniture extra ambiance and style.
Lamps Accentuate a Room's Style
There's an almost limitless selection of styles, colors, sizes, and materials to choose from when you're shopping for table lamps. You're bound to be able to find the perfect table or floor lamp to bring out the best features of your room decoration. Whether you want an accent lamp for a beautiful floor rug or an accent light for a picture on a wall, a well-designed lamp can help add that extra touch of beauty. If you choose a very ornate lamp, it can become the centerpiece of the room itself.
Table and Floor Lamps Light the Way
With these tips for quick move in homes, anyone can add unique touches and personalize every room. Remember to take into account a lamp's size, shape, and style when selecting lamps. With a little patience and planning, owners of new construction homes will be able to find the perfect lamp that makes any room into a masterpiece of interior decoration.

Tags: decorating tips, new homes


Categorised in: Uncategorized

This post was written by Chetty Builders