Winter is Coming, is Your Home Prepared? Don't Burst Your Pipes
November 29, 2017 2:02 am
There isn't a lot more exciting than owning your first new home. Now you can finally add the deck you've been dreaming about, or paint your walls whatever color you want. You've got nearly unlimited freedom with your new home, especially if you had it built by a custom home builder. But even if your new home is just new-to-you, you're the property owner. However, with all this freedom, you might feel overwhelmed as well. There's more to home ownership than just doing whatever you want to your house. You've got to keep maintenance in mind as well. You'll need to do different maintenance during each season. So, do you know everything you need to know for your fall maintenance to get ready for winter?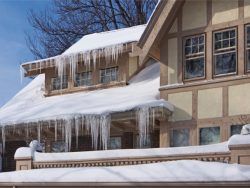 Keep Your Gutters and Downspouts Clean
During Autumn you'll have extra clogged gutters. Make sure you're cleaning them often. If your new home has a couple trees in the yard, you're going to need to clean your gutters and downspouts more frequently. Be safe while you're doing it. That means you should be climbing stable ladders on solid ground, and don't reach over too far. You can move your ladder whenever you need.
Start by removing large items from the gutter, like big leaves, maybe a bird's nest, or even your neighbor's baseball. Once you have the large items out of the way, you can put your hose to work clearing out the little pieces. Clean and clear gutters will direct rainwater and moisture into proper areas, and help prevent damage to your roof.
Check the Trim Around Your Windows, Doors, Railings, and Decks
You want to make sure your house seals up as well as it can. Use a screwdriver to test the wood around all your openings. If you've just got a few holes and cracks you can fill them with caulk. Once you're done filling, you have to choose to leave it or paint it. You'll need to replace any wood if you see a lot of rot. Keeping your house sealed up will make it easier to keep warm when winter is in full swing.
Take the Time to Paint if You Need It
The lower humidity that comes with fall, along with the cooler-but-not-too-cold temperatures, make this a great time for you to paint your home. If you've been thinking about painting your exterior already, take some time to paint now, when it's ideal.
If you Didn't do it While Buying Your New Home, Get Your Roof Inspected
Should you have skipped a roof inspection when you bought your home, or if it's been awhile since then, consider hiring a licensed professional to make sure your roof will last through the winter. They'll look for any curling, buckling, or cracking shingles that need replacing, as well as checking the flashing around your skylights, pipes, and chimneys. When it snows hard, the snow will find its way into any leaks or gaps in your roof.
Prevent Your Exterior Water Pipes from Bursting
When the weather gets below freezing, if there's water in your pipes, your pipes are going to burst. When the water freezes and expands, it tears right through your plumbing. If you want to keep this from happening, turn off the valves to your exterior hose bibs, and then run the water until your pipes are empty.
Follow these tips and you'll be that much better prepared for the coming winter. If you're in the market for a new home, consider having Chetty Builders design the home of your dreams from the ground up. Call (610) 444-8880 and dial extension 105, email, or fill out the contact form to see what Chetty Builders can do for you.
Have you or someone you known forgotten to get ready for winter and had it backfire in a big way? Chetty Builders wants to hear about it. Share it on our Facebook Page.
Categorised in: Homeowner Tips, Uncategorized
This post was written by Chetty Builders