Chetty Builders is one of the premier home builders in PA. Our commitment to complete customer satisfaction is one reason we're so well-regarded in our industry. We believe our obligation to our customers begins long before you sign a sale agreement. It also lasts long after the house is complete. Chetty Builders wants to make it as easy and carefree as possible to purchase one of our new build homes, or one of our  quick move in homes. Why not use our handy mortgage calculator to determine your monthly payments on the new home of your dreams?
How Mortgages Work
Mortgages are amortized. That means that you borrow a set sum of money, and the repayment plan calculates your payment based on the term of the loan. A thirty-year, fixed-rate loan is the most common way to finance new homes. That means that your loan will be broken into 360 identical payments. Amortization means that the balance of principal and interest changes from month to month, but the loan payment pays the same. The amount of principal applied to your balance increases as you make payments. At the same time, your interest payment decreases. Every payment you make can increase the amount of equity you have in your home. That's a solid, sensible way to increase household net worth.
Different Terms Can Save Money
Chetty home builders in PA are proud of the affordability of the houses they construct. We use smart strategies to build our homes faster, without skimping on materials or workmanship. That means you get more house for your money.
Another way to get more house for your money is through smart financing. If you can manage the payments, you can choose a 15-year term on your mortgage instead of 30 years. While the payment number will be higher every month, slicing the term of the loan in half saves big money.
A 15-year loan is amortized in half the time, so the amount applied to your principal is much larger, much faster. It's a great way to build equity.
An Accurate Picture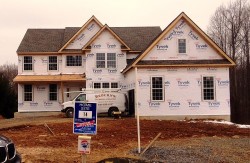 Our handy mortgage calculator also includes entries for taxes and Private Mortgage Insurance (PMI). These numbers will vary, depending on factors like the location of the house, its sale price, and other details. Chetty builders are home builders in PA and DE. That makes it easy to determine tax rates with a quick online search.
Banks and other lenders don't always require PMI. If you place a substantial amount of money down on your home, and have good credit, it probably won't be necessary.
Help Is Always Available
Chetty Builders has already helped hundreds of customers to realize their dream of owning new homes in Delaware and eastern Pennsylvania. We'd be happy to help you, too. If you have any questions about financing your home, or any other aspect of buying a new home, contact us for a fast, friendly answer.