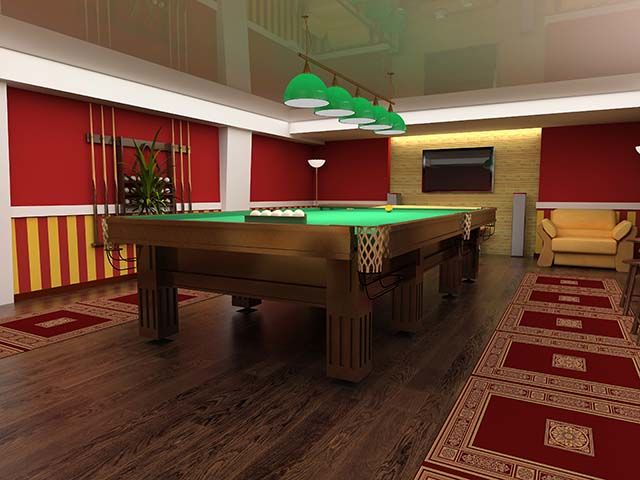 Step Up Your Man Cave With These Design Tips
Once you move into your new quick move in home, it's time to set up a man cave. A well-appointed man cave is the ideal space for socializing, watching sports or just relaxing. Don't let the name deceive you, either. It's the perfect spot for the whole family to have low-key, casual fun.
Most mancaves end up being hodgepodges of things you own, electronics and furniture that has seen better days. You can go this route, but if you put more consideration into the design details of your space, then you'll enjoy it more and it will work better for multiple purposes.
Pick Out the Ideal Space
When considering the ideal space for your man cave in your new quick move in home, ask yourself these questions:
What is the main reason for having your own space?
Do you consider your man cave to be just a private place for you?
Will you be hosting others there as well?
What spaces in your new home are available to create your man cave?
Most man caves are placed in basements, providing a whole floor dedicated just to you! If you have other plans for your basement, or if you have more room elsewhere in your new home, then you can really get creative. Any extra room will do if you think it will function well as your main cave. A remodeled attic space can be just as private as a basement, for instance. A secluded area is great for making noise without worrying about creating a nuisance for the rest of the house. A garage is also perfect if you plan to get messy, especially if it will be used to build or fix things.
Choose Your Theme
This is your space, so it should reflect your interests. Whatever your interests are, whether they be sports, music or movies, they can be highlighted in many aspects of the room, from the furniture to decorating the walls.
A vintage theme is a favorite for man caves. It's fun to use antique furniture and nostalgic decorations to get a throwback vibe. If your interests include sports or music, start with shelving to showcase some memorabilia. If you're feeling more sophisticated, use a lighter color paint for walls to highlight your art collection.
Lighting Your Space
Once you've planned the theme and the function of your man cave, it's time to choose the lighting. The types of fixtures you choose will have a big effect on how the space looks and functions.
For a relaxing room, install light dimmers to adjust the mood. Select bulbs that cast a warm light for a homier feel. If your man cave will be used for mostly entertainment purposes, then include track lights that can be directional for a game or a fun string of small LED lights that change colors.
Create a Focal Point
Start by choosing a focal point for your man cave. It's usually best to locate it on the largest wall of your room. Your focal point can be a piece of artwork, unique piece of furniture, or something more functional like a retro jukebox or large screen TV. When you have guests over to visit, your focal point will be either the main entertainment item or a conversation starter.
Why Not Include a Bar?
You will be very popular with your friends if you have a bar set up in your man cave. It takes a small investment and some time to set up, but if you entertain regularly, it will definitely be worth it. If you are low on funds or space, a mini fridge to store beer or a drink cart are good alternatives.
Games Old and New
Games are essential in a man cave. A classy old-fashioned approach would include either a card table for poker games, or a pool table. Nostalgic entertainment includes old arcade game systems or table tennis. A more contemporary entertainment room would include video games and other electronic devices.
Casual, Comfortable Seating
Seating should be comfortable as well as look good in the space. Your man cave's theme and function should govern how you select your seating. For exciting sports viewing or movie watching, comfy recliners with drink holders are ideal. For luxurious man caves, invest in a leather couch and antique wood furniture. You can even make your favorite worn down chair work if you include more contemporary rustic furniture to complement it.
A Quick Move In Home Is Ideal for Man Caves
A quick move in home is the perfect blank slate to create your man cave. One of the many benefits of buying a new home is an increase in the amount of space you have available compared to apartment or condo living. If you're looking for quick move in homes in eastern Pennsylvania or northern Delaware, let Chetty Builders can help you make your man cave dreams come true.

Tags: new home decorating, quick move in homes


Categorised in: Uncategorized

This post was written by Chetty Builders