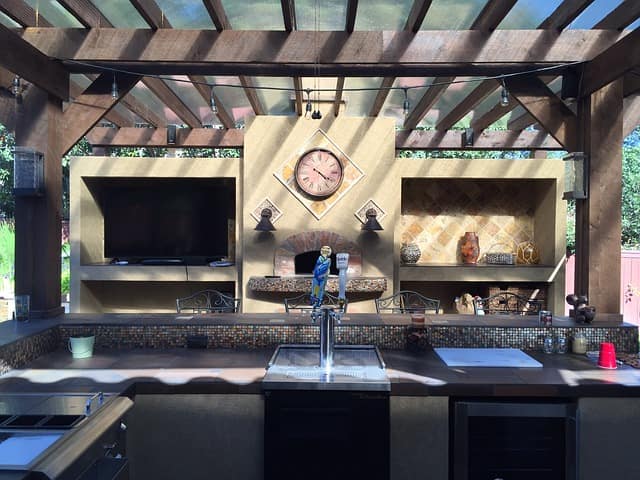 How to Design an Outdoor Kitchen Like a Pro
An outdoor kitchen can be an exciting and special addition to new homes. The enjoyment of cooking and preparing a delicious meal on your very own outdoor grill, and entertaining guests and friends with a kitchen is very special to owners of new build homes. Outdoor kitchens are a great way to allow backyard chefs to mingle with guests while cooking. New home builders are often asked for advice for designing a new kitchen. Here are some tips from the top new home builders that you can use to create the outdoor kitchen of your dreams!
A great new outdoor kitchen starts with great plans to build it. New home builders stress that planning is the most important part of building an outdoor kitchen. You will want to take many different things into consideration.
Location, Location, Location!
One of the first things to consider is where you are going to build your outdoor kitchen. New home builders will tell you that choosing the right location is very important for a number of reasons. One major consideration to think about is the smoke from your barbecue grill. Understanding the wind patterns around new homes will help place outdoor kitchens so the smoke doesn't enter your new build home. If you entertain guests frequently, you will want to place your outdoor kitchen closer to your home. This way, you won't have to travel a long distance outside your house to your outdoor kitchen- especially with plates full of food. Finally, you'll also want to think about the overall traffic flow of your home. Having a hot grill near where children like to play could be a safety hazard.
When designing the kitchen itself, try to pay attention to the location of each appliance. You can use the "golden triangle" method to help you design your kitchen so you can work with greater ease. Adhering to the golden triangle of kitchen design will help make your outdoor kitchen just as efficient as your indoor kitchen.
New Home Builders Recommend Choosing the Perfect Appliances
While everyone wants great looking and functional appliances, new home builders stress the importance of doing your research before buying. An outdoor kitchen it something you want to last for many years, so it is crucial to select the perfect appliances when doing your planning. Double check your space requirements, then choose reliable appliances with good reviews and ratings. New home builders recommend seeing the appliance in person before purchasing it, to make sure it fits your needs exactly.
Building (or Buying) a Bigger Better Barbecue
One big decision you will need to make is whether you want to buy your barbecue, or build it yourself. New home builders generally agree that it is better to buy the grill unless you have extensive knowledge of building. If you do decide to build your own grill, there are several guides that will help you to create your own custom barbecue for your outdoor kitchen.
Of course, you don't have to have a barbecue in your outdoor kitchen. There are a few different options to use to cook outside other than a barbecue grill. For example, you can create a fire pit that you can use for cooking. As a bonus, you can make the fire pit the heart of your entertainment center, and guests can cook for themselves with skewers, or on a grill over the open flame. You and your guests can relax nearby and enjoy time together while everyone cooks their food together.
An outdoor oven is a great idea for your kitchen, so you can bake delicious goods outdoors as well as you can indoors. You can design a traditional box oven, or a brick, stone, or pizza oven. You can even attach your oven to your grill for a complete outdoor kitchen. The possibilities for creating an outdoor oven are wide and varied, so be sure to check around for great ideas!
Don't Forget the Accessories!
Like any other kitchen, you will need more than your grill to complete your outdoor kitchen. New home builders have identified several extras to complete your kitchen. You will need counter tops to prepare your food and work on. If you plan on using it to eat on as well, you will want to make sure your counter tops are at least 15″ deep and 24″ wide per person. This will give them enough room to relax and enjoy the food you just prepared.
You will also want plenty of storage to keep your cooking utensils, pots and pans, dishes and silverware, and even your food (in a refrigerator). New home builders caution that any storage cabinets must be rated for outdoor use. Many are made from woods that are resistant to rot, such as redwood. Another good option for outdoor cabinets is stainless steel.
Finally, a kitchen is not complete without a sink to clean with. You can connect an outdoor sink to a hose, or plumb it to the water supply of new homes. A ceramic or stainless steel sink is ideal for an outdoor kitchen.
Add a Little Ambiance and Safety
Sometimes Mother Nature can be kind, with warm pleasant days to spend outside new homes. Other days, she can be dark, broody, and stormy. Since your kitchen will be outdoors, it will be at the mercy of Mother Nature. This means not only dealing with extreme temperatures, but also moisture. Make sure to waterproof your entire outdoor kitchen- from the grill to the cabinets.
Depending on the climate and seasons, you will want to invest in items to keep you at just the right temperature. If it is too hot, you can add overhead or side fans, or misting sprays. For cooler weather, a fire pit or heat lamps will help warm up your outdoor kitchen. For those pesky insects that tend to bug you, you can add netting, create a patio enclosure for your kitchen, or use mechanical repellents to keep the bugs at bay.
But just because it's safe doesn't mean it can't look great too! You can add couches, tables and chairs, decorations, and more to make your outdoor kitchen livable and enjoyable. Make sure to choose durable furniture, with cushions designed for outdoor use. If you need to save space or make it easy to winterize your home,
Specialty lighting is especially useful for creating just the right mood for your outdoor kitchen. If you plan on entertaining guests outside, adding lighting to your outdoor kitchen not only makes it more inviting to guests, but will make it safer overall at night when it is difficult to see in the dark.
An Outdoor Kitchen is Great for New Build Homes
With these great tips from expert new home builders, your outdoor kitchen is sure to be wonderful and enjoyable. Have fun designing your new outdoor kitchen, and even more fun cooking in it!
Categorised in: New home builder in PA
This post was written by Chetty Builders