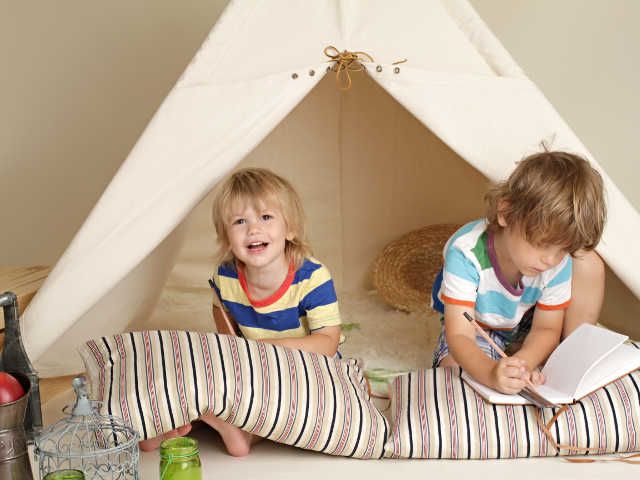 Avoid the Late Winter Blues With These Indoor Activities for Kids
January 25, 2017 12:26 am
Winter can sneak up on you. Just when your kids get antsy to go out and play, Mother Nature gives you a winter storm that socks you inside. If long winter evenings are getting boring for your children, why not get their creative juices flowing with some new creative activities? Luckily, new construction homes have a lot of room for activities and hobbies. Here are a few good ideas to keep everyone happy and interested all winter long:
Get Architectural
Building blocks are a great way for young minds to create something new and exciting. You can work along with your kids to create as big a project as time allows. Use simple wood blocks, Legos, Duplos (for younger kids), K'Nex, or Lincoln Logs to build . Above all, let your child's imagination run wild with crazy and fun ideas.
Remember that it's OK if part of your new construction gets demolished along the way. After all, rebuilding it is part of the fun. After you've put on the finishing touches, make sure to take a picture of your creation.
Arts and Crafts
Winter crafts are a great way to enjoy time with your kids. It's easy to find craft projects for all skill levels and ages. From snowflakes to snowmen, you and your kids will have a great time with a craft project. It's a great opportunity to set up a craft room in your new construction home. If you do not have the materials handy, see if you can improvise with other materials. As an added bonus, when you're done with your project, you can proudly display it in your home.
Fun with Paper Airplanes
It's lots of fun to make paper airplanes and fly them. There are many designs available online that you can try out. Of course, some designs are easy to create, and others are more difficult, so be sure to try several designs. When you've made a few of one design, go ahead and test them out in an open room. Since you are inside, there won't be any wind to interfere with your plans. You can lay a game to see which airplane gets the farthest or which can perform the coolest stunts. The beauty of making paper airplanes is how inexpensive it is.
Building an Indoor Fort
Nothing says indoor fun like building an indoor fort. Start by using nearby furniture like a sofa, bed, or tent, and then use pillows, cushions, and blankets to build your fortress. In fact, you can do things like pretending with your kids to hold off a mighty army, or hide in it and watch movies on your tablet, complete with a flashlight and popcorn.
Make an Artistic Impression
You and your kids can spend a wonderful afternoon together creating a sculpture. The great part about a sculpture is that you can make it from just about any material you happen to have on hand. From styrofoam to cardboard tubes, it's fun to create a new construction from just about any material. Your sculpture doesn't have to be permanent either. Take a picture, and let the memory last forever in your new home.
Keep Yourself Entertained
With a little creative ingenuity, and a healthy dose of fun, you and your kids can create something wonderful – even if it only lasts for a few hours. Make sure to take a picture of the fun to add to your wonderful memories in your new home.

Tags: craft rooms


Categorised in: Uncategorized

This post was written by Chetty Builders